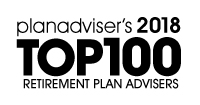 NASHVILLE, TN (JANUARY 29, 2018) – Avondale Partners, LLC is pleased to announce that Steve Glasgow and his Avondale Adviser Team have been named one of PLANADVISER's Top 100 Retirement Plan Advisers for 2018. Glasgow is Senior Vice President/Financial Advisor with Avondale's Wealth & Asset Management group, headquartered in Nashville.
The PLANADVISER Top 100 Retirement Plan Advisers is an annual list of advisers across the U.S. who stand out in the industry based on a series of quantitative measures. These criteria include the dollar value of employer-sponsored retirement plan assets under administration (AUA), as well as the number of plans under advisement.
Mr. Glasgow and Avondale Partners were recognized in the Small Team Category (two or more advisers and total staff less than 10), with over $1.5 billion in retirement plan assets. They were also the only advisers in the State of Tennessee to be included in this elite industry list of the Top 100 nationwide.
The 2018 PLANADVISER Top 100 Retirement Plan Advisers list is available online at https://www.planadviser.com/awards/top-100. All advisers named to the list will be honored at the annual PLANADVISER Awards for Excellence dinner on March 29 in New York City. Please visit the event page for more information.
AVONDALE PARTNERS LLC
Avondale Partners, LLC is a boutique wealth management and investment banking firm focused on the healthcare industry, middle market entrepreneurs and their families. It is an employee-owned firm that provides investment banking services, including mergers and acquisitions advisory and capital raising services, in addition to wealth and retirement planning services to private and public companies, individuals and families. Avondale Partners, LLC was founded in 2001 and is headquartered in Nashville, Tennessee, with additional offices in Memphis, San Francisco, Pittsburgh and Dothan, Alabama. For more information, visit www.avondalepartnersllc.com.
PLANADVISER Top 100
The PLANADVISER Top 100 Retirement Plan Advisers list is compiled from responses to the PLANADVISER Retirement Plan Adviser Survey. The list is drawn solely from a set of quantitative variables and information in the survey supplied by the advisers themselves. For an adviser to be eligible for recognition in this year's Top 100, he had to submit a completed entry to the 2017 Retirement Plan Adviser Survey, which was fielded this past September. A sub-segment of the questions was used to determine eligibility for the Top 100.
PLANADVISER Through its magazine, website, events and email newsletter, PLANADVISER, a part of Strategic Insight, provides comprehensive industry news, regulatory and investment information, research and training to financial advisers who specialize in the sale, design and administration of institutional qualified and nonqualified retirement plans and executive compensation plans, including 401(k), defined benefit and deferred compensation plans. For more information, please visit www.planadviser.com.
MEDIA CONTACT:
Kerry Graham, The Brand Hotel
615-972-0829
CLIENT CONTACT:
Pat Shepherd, CEO
615-467-3515